14 festive fancy summer wreaths to make this season
---
Another week in the books and another week closer to Summer. For many people like me summer has already arrived, but for a large majority of the rest of the population there are still a few more weeks to go. Here in NY we have started to get a taste of what summer 2019 has to bring. The birds are chirping, the grass is growing green, my garden is booming, and even the animals seem to be coming out to explore. Not only is nature showing us what summer is bringing but also the industrial portion of our world as well. Online I have been printing out plans and calendars that show what fairs and festivals are going on over these next few months.
In other news, a second thing which I am looking forward to this summer is decorating, something I very much enjoy. Here in my household I have already started collecting my art supplies to begin my DIY summer decor. I have been browsing many sites and have found the perfect wreaths which I cannot wait to make, and these wreaths are what I am going to be sharing with you today. The perfect, easy, and adorable DIY wreaths are only a few words away.
ENJOY 🙂
---
Summer Lemon Wreath from The Navage Patch
Watermelon Wreath from Craft Create Cook
Pineapple Wreath
cardboard cut out in the shape of a pineapple + sunflowers +  burlap ribbon +  artificial greenery- These directions were found on The Prudent Penny Pincher
Lavender Wreath
lavender floral bushes + lavender leaf sprays + grapevine wreath + burlap bow – These directions were found on The Prudent Penny Pincher
Farmhouse Style Tire Wreath from The Craft Patch
Sunflower Wreath With Bow Tutorial from Crafty Texas Girl
Stunning Living Succulent Wreath from Pretty Prudent
Paper Umbrella Wreath from Family Chic
Boxwood Butterfly Wreath from Design Improvised
DIY Starburst Driftwood Mirror from Sustain My Craft Habit
Seashell Wreath (Pottery Barn Knockoff) from Addicted 2 DIY
Nautical Rope Wreath from How to Nest for Less
Pottery Barn Inspired Shell Wreath from Confessions of a Serial DIYer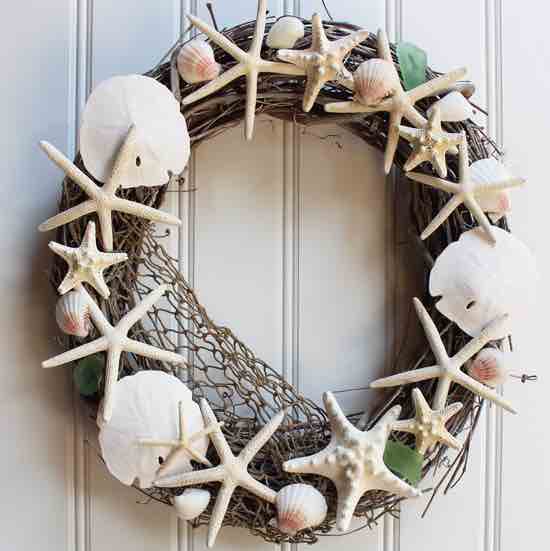 Summer Cupcake Liner Wreath from Crafts by Courtney
---
Thank you so much for reading today's blog post. If you have any questions feel free to reach out to me either by leaving a comment below or via my 'contact' tab.
I also want to give a huge welcome to all the new readers or followers on my blog. Thank you!
Have a great day!
Please follow and like us: